Inclusive Senior Living: Care, Support, and a Focus on Family
Throughout our history, our focus has always been on people — our residents, families and staff who, together, create a feeling of "home". We never forget that a warm hello or a small favor can make anyone's day brighter. Because we believe what we all really need most is found in our hearts, not on a checklist.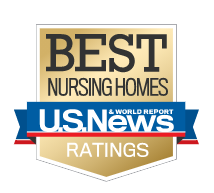 U.S. News & World Report has named Forest Hills of DC as Best Nursing Home. Please read more about our wonderful award.
We would be happy to give you a personal tour of our community and learn more about the your needs or those of a loved one.