Short-Term Rehabilitation Services at our Health Care Center
Our highly rated, Medicare-licensed skilled nursing care center offers private and deluxe semi-private rooms in our comfortable and quiet community for short-term rehabilitation. Residents can enjoy all the amenities at Forest Hills including our life enrichment programs, entertainment, and beautifully landscaped outdoor areas. Meals in the Health Care Center are served in state-of-the-art dining rooms that rival high-end restaurant environments. Both dining rooms in the Health Care Center were completely remodeled in 2017.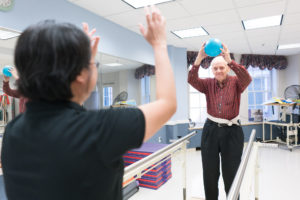 Our full-time therapists offer high quality physical therapy, occupational therapy, and speech therapy services in a spacious rehab gym. Functional recovery is accomplished through the use of a wide range of equipment and a simulated apartment that is an extension of the gym. This apartment includes a full kitchen and a bathroom with a bathtub so therapists can replicate typical home environments and tasks in preparation for the resident's discharge home. The rehab gym also includes all the standard exercise equipment found in most commercial fitness centers.
For an inside look at our rehabilitation program, click here.
Our rehab services are ideal for recovering from:
Hip replacement or knee replacement surgery
Shoulder surgery or injuries
Stroke or neurological conditions
Dysphagia
Lymphedema
Pneumonia, severe flu, dehydration
Our treatment programs include:
Physical therapy for seniors
Balance training for seniors
Pain reduction
Postural exercises
Teaching use of cane, walker, wheelchair or scooter
Home evaluation for safety issues and recommendations for adaptations
Occupational therapy for seniors
Improving strength and skills to conduct activities of daily living (ADLs)
Individualized exercise activities to increase function, endurance, strength, and movement
Speech therapy for seniors including evaluation of speech, language communication, and cognitive skills
Evaluation of swallowing and vocal abilities
Observation / Rehab Suites