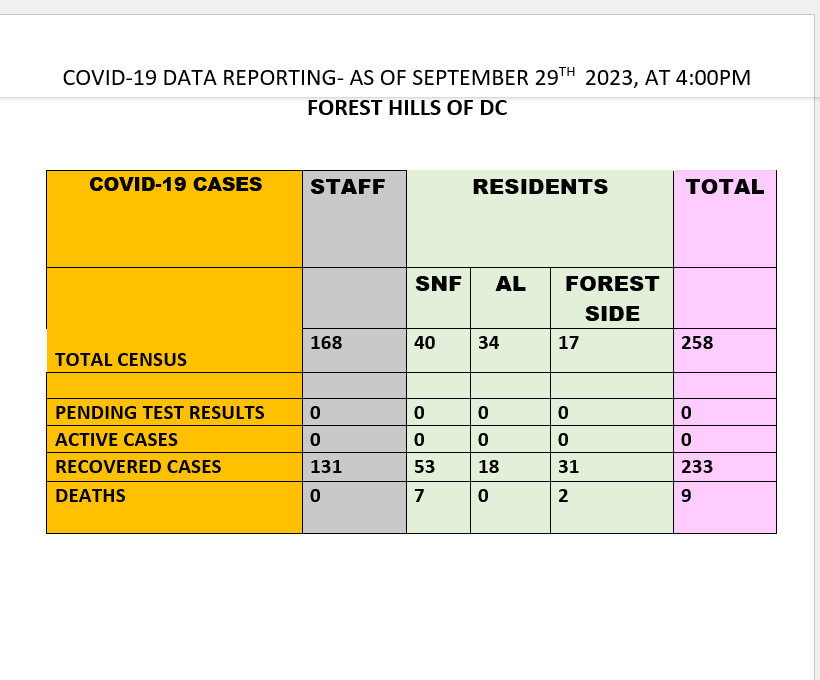 Dear Visitor to Forest Hills of DC:
Welcome! We are so very pleased to have you visit in our community with your loved one, friend, or acquaintance! We are grateful and happy for you and for our resident to have this visit.
During your visit, we wish to emphasize, that due to the increasing and continued spread of Covid-19 and especially the variant mutant strains, we all still need to adhere to the safety measures of maintaining physical distancing and frequent hand hygiene with alcohol-based hand sanitizer and/or hand washing with soap and water and wearing masks when visiting. It is still possible to transmit Covid- 19 even though one is vaccinated, though the life-threatening and hospital- worthy consequences are lessened.
Fully vaccinated refers to any individual who is equal or greater that 2 weeks following receipt of the second dose in a 2- dose series, or equal or greater than 2 weeks following receipt of one dose of a single- dose vaccine.
You will be asked to review and sign the visitation agreement below on paper or in the screening kiosks upon your first visit and when there are any changes made. You will be Covid-19 screened every time you visit to help keep our residents safe. If you have any questions at all, please ask at the Front Desk while you are being screened and we will get an answer for you immediately.
Forest Hills shall allow indoor visitation at all times and for all residents regardless of vaccination status. Additionally, Forest Hills will accommodate all visits to the extent possible and will not restrict without a reasonable clinical or safety cause. You may continue to use sign up genius as this helps us to determine traffic flow within the community, but it is not mandatory. If you have questions about your visit or group gathering, please contact Life Enrichment Director Kia Standard at 202-777-3311 or by email kstandard@foresthillsdc.life. Forest Side Life Enrichment Team can be reached at (202) 696-1929.
We would love to hear how your visit went, what went well and what we could change with regards to your visit to help us improve our processes. Your opinions are important to us.
https://coronavirus.dc.gov/sites/default/files/dc/sites/coronavirus/page_content/attachments/Guidance_SNF_ALR_Indoor_and_Outdoor_Visitation_COVID-19_DCHealth_10.19.21_Updated.pdf  for updates on Department of Health guidance.
We will issue you a fresh face mask each time you arrive to visit. Enjoy your visit, and again, welcome!
Regards,
Crystal L. Scott, Administrator