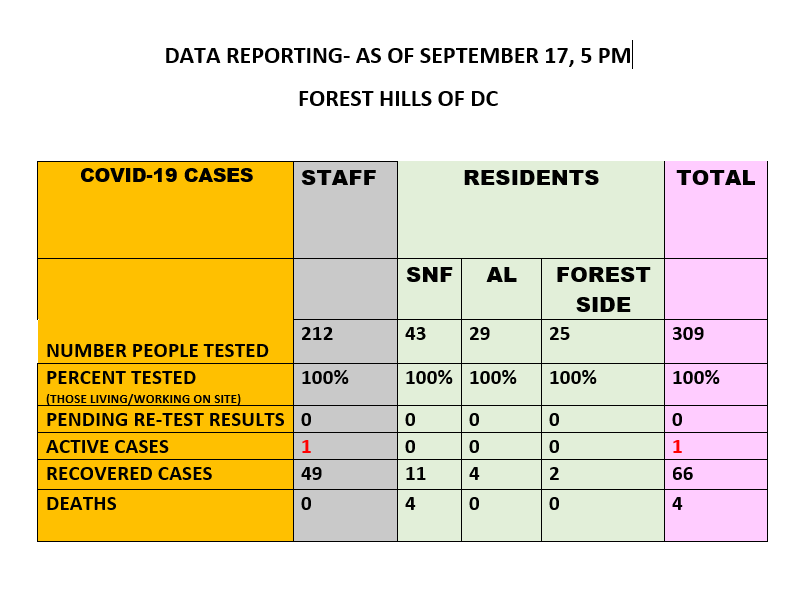 April 29, 2020
Dear Forest Hills Friends,
Ensuring our residents and staff are in a safe and healthy environment continues to be our highest priority. During this time of uncertainty in this new world of COVID-19, we are working closely with the DC Department of Health and the Department of Epidemiology to ensure we continue to take the appropriate steps as more information on the spread and containment of the virus becomes available. We continue to stay abreast of infection control best practices and any changes as recommended by our care partners. Our staff and residents have been and are continuing to follow the recommended preventative actions.
For the safety of our residents we continue to restrict visitors to both Forest Hills and Forest Side. Additionally, we are encouraging additional hydration for all our residents at the suggestion of the Department of Health. We continue to monitor our residents for sign and symptoms and all staff are continuing to wear face masks and additional PPE as required. Be assured we currently have adequate supplies of PPE. We continue to screen every employee or agency staff member for signs and symptoms of the virus every time they come to work or return from being away from the facility on a break or to assist in transporting a resident.
For the most up-to-date information on this topic, please visit the CDC website at
http://www.cdc.gov/covid19
While our thoughts and efforts are focused on our residents, we also thank all the members of our staff who work tirelessly to care for our elders. Their brave professionalism and dedication to the people in our care is a testament to the love and respect we all share for our residents.
Sincerely,
Crystal Scott, LNHA, MSN, RN-BC
Administrator
Forest Hills of DC