Our very own Miles Lee will be speaking as a frontline worker as part of the American Healthcare Association (AHCA) National Town Hall. Miles will be on a panel with Dr. Gifford, the Medical Director for AHCA/NCAL. This Town Hall is especially targeted at employees not yet vaccinated. The Town Hall is scheduled for Tuesday, June 22, 2021 from 4:30 pm ET to 5:30 pm ET.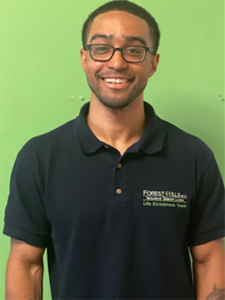 Get Your Questions About the Vaccine Answered at the Get Vaccinated Virtual Townhall. Forest Hills very own Miles Lee will be participating in the discussion today! See link below.
Visit https://www.ahcancal.org/ for answers.
Miles Lee, Activities, Life Enrichment
Miles Lee is part of the Life Enrichment/Activities Department here at Forest Hills. Miles is passionate about Social Justice, healthy living, and assisting the less fortunate/vulnerable. His future plans are to work for Housing and Urban Development to continue his efforts in serving the senior population.