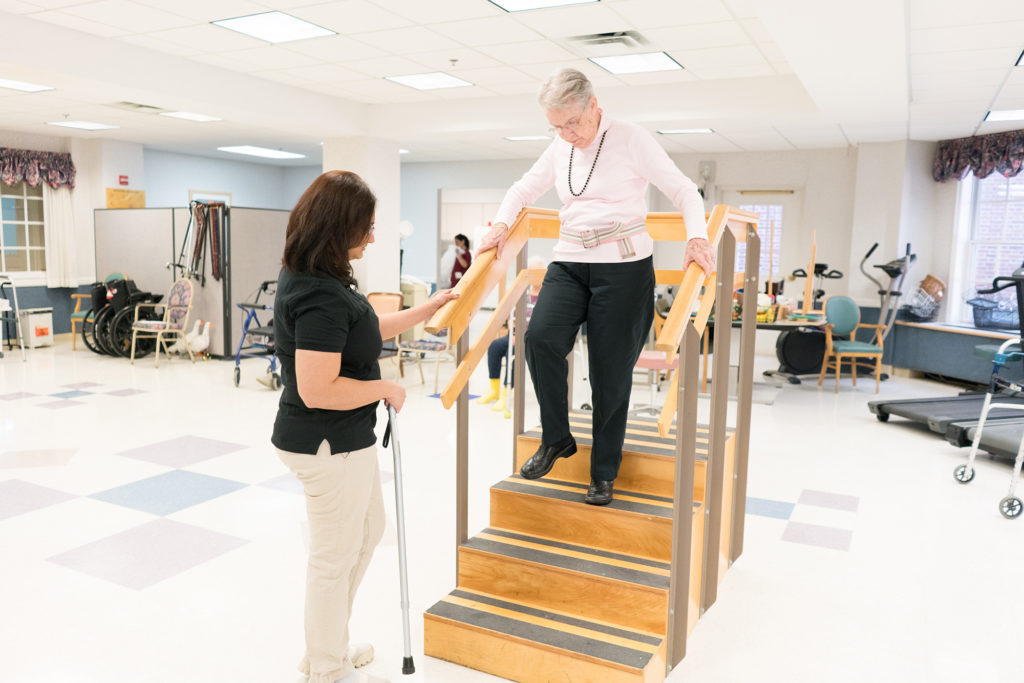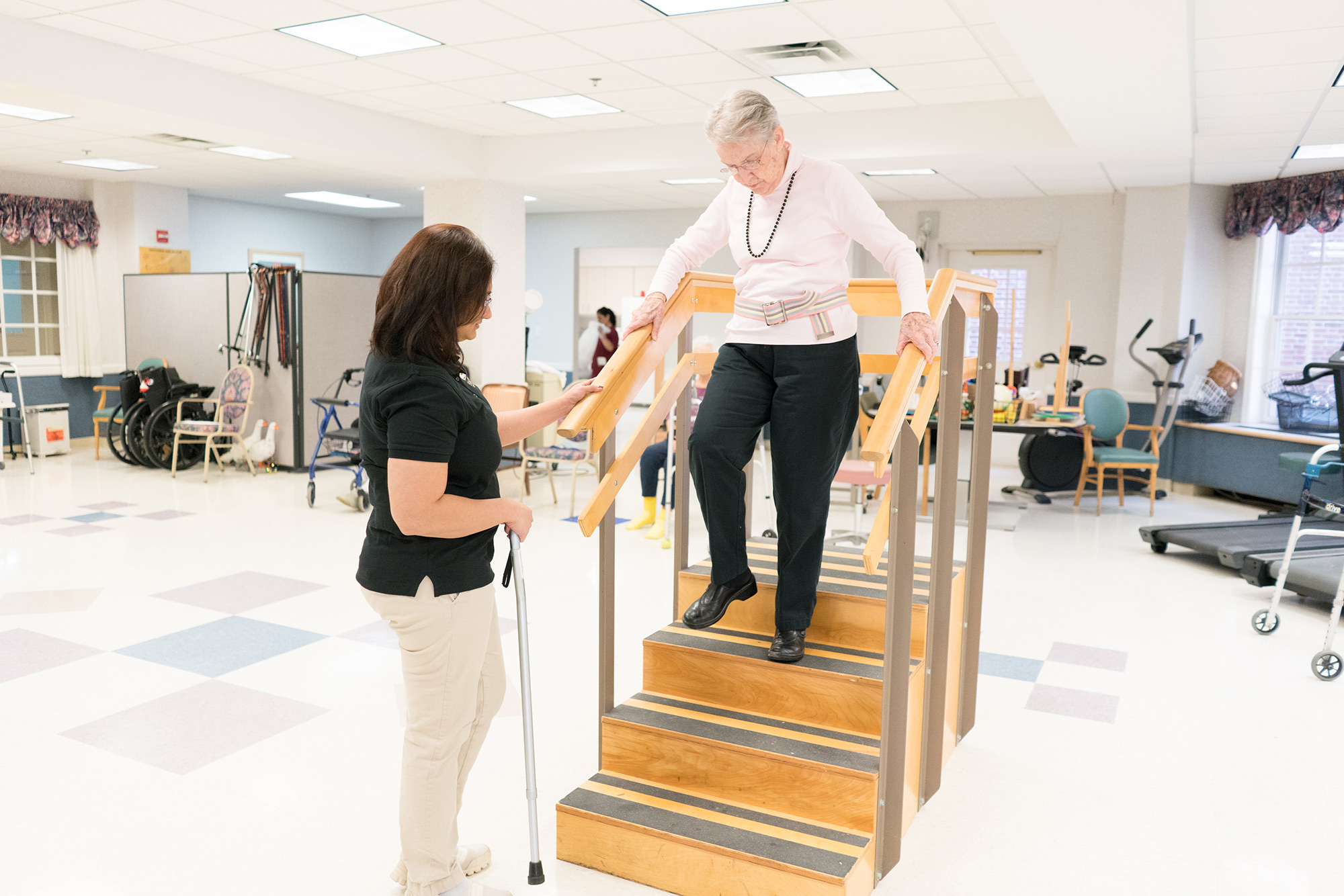 For many seniors, the cold winter season is a challenging time to maintain their physical health. With increasingly weakened immune systems, elderly adults are particularly susceptible to the dangers of influenza, pneumonia and other viral conditions. There's also the amplified risk of experiencing snow- and ice-related falls, and even a small spill-indoors or out-can result in serious injury. If an aging loved one in your life has suffered from illness or injury this season, you and your family may be looking into options for a short-term rehabilitation stay.
Short-term rehab is an opportunity for sick or injured seniors to recover and restore their health, supported by a staff of trained professionals who are fully equipped to provide the most effective care. Because choosing the right short-term rehab center is both an important and multifaceted decision, it's easy to become overwhelmed by the selection process. To help you get informed and feel confident in your search, here are some expert insights on what to look for.
1. Rehabilitation and Nursing Services
When it comes to arranging short-term rehabilitation for your aging loved one, it's natural to be concerned about their specific healing and rehabilitation process. In addition to thinking about the details of their living spaces, you'll want to gain peace of mind in knowing that the center you choose is providing the utmost level of specialized medical and therapeutic care.
As you examine your options and visit facilities in your area, be sure to consider and inquire about the following factors:
What level of nursing care is provided to attend to your loved one's medical needs around the clock?
Are there specialized staff available to meet the unique needs of your loved one's health condition?
Will the center work with your family to develop a personalized care plan that covers all the aspects of your loved one's rehabilitation process?
What rehabilitation facilities and equipment are available on site? Is there a wide range to accommodate a myriad of needs and abilities? Are they well maintained and in good condition?
Do the facilities replicate typical home environments so that therapists can focus on everyday living tasks in preparation for the resident's discharge?
Also, have a discussion with each center to determine what treatment programs are available, including options like:
Physical therapy for seniors
Balance training for seniors
Pain reduction
Postural exercises
Teaching use of cane, walker, wheelchair or scooter
Home evaluation for safety issues and recommendations for adaptations
Occupational therapy for seniors
Improving strength and skills to conduct activities of daily living (ADLs)
Individualized exercise activities to increase function, endurance, strength and movement
Speech therapy for seniors, including evaluation of speech, language communication and cognitive skills
Evaluation of swallowing and vocal abilities
2. Care Team
Because there's simply no place like home, especially when dealing with illness and injury, it's critical for your loved one to feel like they are living and healing in a place of comfort, safety and kindness. Take time to meet each center's staff and care personnel, getting a feel for how they treat and interact with short-term patients.
Are the caregivers warm and friendly? Do they approach their work in a human-centered way? Do they promote dignity and independence? Do they serve in such a way that they become an extension of your own family?
Search for a short-term rehab center with a highly experienced and knowledgeable staff available 24 hours a day to assist your loved one with any time-sensitive needs. All medical and nursing services should be provided by licensed practitioners, and the team should be comprised of talented and compassionate personnel who are committed to serving the needs of patients and their families.
3. Accommodations
As you assess the short-term rehabilitation centers available for the ill or injured senior in your life, take the opportunity to visit and see firsthand what the living space looks and feels like. Get a better understanding of room types and options. Ask questions such as:
Are the individual living spaces private? Will your loved one be sharing a room with another patient? (Some people prefer privacy, while others enjoy the company of a roommate.)
What types of furniture and accessibility are available to meet the needs of your loved one? This might include anything from recliners to borrowable DME (durable medical equipment) like walkers, wheelchairs and oxygen tanks.
What amenities are provided in each living space to accommodate the comfort of your loved one? For example, is there cable television, WiFi connection and phone service?
What is the facility's level of cleanliness? Are individual rooms and common living areas kept in sanitary and orderly condition?
Are there outdoor sitting areas for your loved one to soak in some sunlight and get a breath of fresh air as they rehabilitate and recover?
4. Meals, Activities and Visitation
As you visit each short-term rehab center, evaluate the options for dining and meal plans. Is there a varied and appetizing menu as well as specialized options for dietary needs like vegetarian and low or no sodium? Do they have flexibility around when and how meals are provided (e.g., room service, restaurant-style dining, space for eating with family and visitors, flexible hours, etc.)?
Check out the community and social areas, and see what events and activities are available for patients who may desire a level of engagement and entertainment. Because some recovering patients may be too tired to participate in the traditional activities of a skilled facility, there should also be specific activities targeted to their needs. If it's important for your loved one to attend religious services, find out what opportunities there are to accommodate them in that regard.
Finally, understand what rules are involved with visitation from family and friends. For many seniors requiring short-term rehabilitation, having regular visits from their loved ones is paramount to their recovery and mental well-being. Find out whether the centers you are considering offer extended visiting hours for the families of patients.
5. Medicare Eligibility
Of course, any short-term rehab stint for your aging loved one will come with a financial cost. As you research and consider ways to pay for this expense, Medicare could be the primary source of coverage. In order to apply it to a short-term stay, the center must be Medicare-licensed, so this will be an important distinction in your search.
If your loved one is facing a short-term rehabilitation, Medicare could help alleviate some bills and significantly reduce their overall healthcare costs. Be sure to research your options and talk to an expert if needed.
Ultimately, choosing the right center for your aging loved one's short-term rehabilitation involves understanding their individual needs and finding out how each facility can accommodate them. You will need to get an understanding of the approximate amount of time they'll need to achieve their baseline, as well as what insurance will cover. For instance, rehabilitation prompted by the onset of flu or pneumonia might only require a couple of days to a month or so, while a more involved injury from a serious fall could necessitate a much longer rehabilitation.
Don't be afraid to ask questions and even talk to the families of current patients to feel confident in your decision. This is an important choice for you and your family, and you should have peace of mind that your selection checks off all your requirements for providing a high level of care and comfort.
Forest Hills of DC has a highly rated, Medicare-licensed skilled nursing care center offering private and deluxe semi-private rooms in our comfortable and quiet community for short-term rehabilitation in the Washington DC area. Short-term rehabilitation patients may be able to transition into our Assisted Living and Memory Care Communities. To schedule a tour or get more information about how we cater to seniors in a safe and home-like environment, call us at 202-966-7623.